Friends of Balderstone School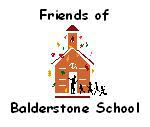 Friends of Balderstone School (FOBS) is a group of dedicated parents who arrange various activities and events throughout the school year to raise funds for the school.
Despite the COVID 19 Pandemic FOB's have been doing a brilliant job of raising money for school.
Christmas Raffle
Mother's day and Father's day gifts
Outdoor family treasure hunt
Summer 100 square raffle
Maintaining the clothes bin - this is very profitable!!
They welcome any new members, you can give as little or as much time as you like. The best way to keep in touch is through the very active WhatsApp group.
Take a look at the posters the Reception children have made. They really want more people to become part of FOBs so they can continue to benefit from their fundraising.
Harvest show 29th September